Up-to-date Remote Key Logger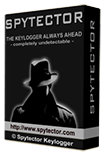 Spytector - the best keystroke logger
Do you need to find out what people are doing on your computer? Is your child or someone you know using your PC inappropriately? Would you feel better to know what your children are doing on the internet? Do you suspect your employees of doing anything else but working on their office computers? It is sometimes hard to keep up with technology and with the ways the Internet is used. But it isn't hard if you use
Spytector
. Here is the right place for you, Spytector is the perfect monitoring solution for anyone that needs this information quickly.
Spytector is an invisible easy-to-use remote surveillance tool that records every keystroke to an encrypted log file - while staying completely stealth to users! Spytector will let you know what was typed (login passwords and usernames, Internet browsing, emails, chat conversations etc.), in which application/window and who typed it. In addition to the monitoring options, Spytector features a unique undetectable installation and is hard to be spotted even by savvy users.
Spytector, also known as
Ghost Keylogger
, is a professional monitoring software that is highly concealed. During monitoring sessions Spytector is invisible and cannot be seen or easily detected by any user! With Spytector running all information will be captured on your PC and recorded in complete stealth mode. This means no worrying about someone discovering the keylogger running during monitoring sessions! Have you bought similar products that keep being detected and wasted precious time trying to make them work? If so, Spytector is the spy software you need.
Spytector keystroke logger is cloaking itself in system, being run inside operating system services. The keylogger cannot be seen in the Task Manager, Add/Remove Programs Menu, Start Menu, Taskbar and is able to bypass the protections implemented in new Windows systems (UAC - User Account Control). That means you don't have to make any modification to your system to allow the spy software.
What separates Spytector key logger from the many others (free or paid keyloggers) offered on the internet? What makes Spytector stand out from the competition? It's the undetectability - the developers' commitment to build undetectable versions on
a
daily basis! While the other keyloggers on the market are updated monthly (or less often) and the same build is shared by a lot of users, we build Spytectors almost daily. Each Spytector build is shared only by a very few users and due to that the probability of detection is kept as low as possible. Yes, that implies more work for us but we stand behind our claim of delivering the most hidden keylogger in the world. Many of the monitoring programs available on the market are detected and the ones claimed to be undetected are updated monthly or even less often...
We're fully confident Spytector is the computer monitoring program you're looking for. Spytector key logger is the best monitoring software you can buy on the Internet and we guarantee it's undetected when scanned with the following antivirus programs: Norton AV, Kaspersky AV, Malwarebytes, McAfee, AVG, Avast, Panda, TrendMicro. While the *full* version is undetected, the *trial* version (publicly available on our website's
download
section) is detected by all the AV programs so you should temporarily disable your AV for proper testing.
Spytector is fully compatible with all the Windows operating systems versions in use (i.e. Windows 2k, XP, Vista, Windows 7, Windows 8, Windows 10, Windows 11) and works on both 32bit and 64bit.
Spytector is a Windows native application and doesn't need any dependency, it works perfectly without any .NET Framework installed! Spytector is a keylogger that professionals use, not a bloated .NET application!