Spytector keylogger full version
Purchase options
The customers interested in purchasing Spytector can place orders through BMT Micro - one of the most reputable and experienced payment processors. After your payment is cleared, the license key and the full version are delivered through email within a twelve (12) hour period (most likely in less than an hour). In our attempts to provide you with the most flexible payment solutions, the accepted payment options include PayPal, major credit cards, SWITCH/SOLO, mail/fax. We understand your concerns regarding ordering a keylogger and we take every precaution to protect your confidential info, so your credit card statement will reflect a purchase from BMT Micro (Spytector keylogger isn't mentioned on your credit card statement).
Besides ordering through BMT Micro, you can pay for the license with Bitcoin, Perfect Money, Western Union and Money Gram. Please contact us and we'll find the best option for both parties.
Spytector is offered as three different packages: 1 Year License, 2 Months License and Lifetime License. All the licensing options include the same software and support the same features, the only difference being the period over which you can receive Spytector updates (new versions, fixes).
Besides the software license, you can also order email and FTP accounts (useful for receiving the logs sent from remote computers). The purchased email or FTP accounts can be associated with a domain not related to keyloggers (like
[email protected]***.com
), just let us know your preference.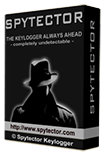 SECURE ORDER
PRODUCT
PRICE
DETAILS
Spytector
Lifetime License
Spytector
2 Months License
Email Account
$14.95
2 Months License **
FTP Account
$14.95
2 Months License **
** The software and the email/FTP accounts are separate purchases.
We guarantee the full version of Spytector keylogger is undetected when scanned with the following AV products: Norton AV, Kaspersky AV, Malwarebytes, McAfee, AVG, Avast, Panda, TrendMicro. In the event your Spytector experiences a detection, please contact us and you'll receive a new undetectable version as soon as possible (usually within a 24-48 hour period).
What separates Spytector keylogger from the many others offered on the internet? What makes Spytector keylogger stand out from the competition? It's the undetectability - the developers' commitment to build undetectable versions on a daily basis! While the other keyloggers on the market are updated monthly (or less often) and the same build is shared by a lot of users, we build Spytectors almost daily. Each Spytector build is shared only by a very few users and due to that the probability of detection is kept as low as possible. Yes, that implies more work for us but we stand behind our claim of delivering the most undetectable keylogger in the world. Many of the keyloggers available on the market are detected and the ones claimed to be undetected are updated monthly or even less often...